Hi,
When I talk to clients about being overloaded, they often respond that they have too much to do and too little time. They feel pressured to catch up, keep up and to stay ahead of the curve.
Because of budget cuts and competitive pressures, workers are forced to take on more work and more stress.
A solution to work overload and stress is to master your time management.
Where do you start?
If you want to use your time more effectively and you don't know where to start, then this can like trying to pin the tail on the donkey – a very hit and miss affair.
If you want to avoid this 'trial and error' then our time management survey provides you with a personal report showing where your strengths and weaknesses are - and more importantly, what you can do about it.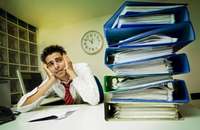 Get more bang for your buck
Time management skills will give you a 'bigger bang for your buck' than almost all other learnable skills. The secret to getting more done in less time involves 2 key principles:

1. Being able to set priorities

Since there is never enough time to do all that you want to do, then you have continually set priorities. Setting priorities over the long term involves setting goals. Once you have set goals, and know your priorities, then the best question to ask yourself is "am I doing what is the most valuable use of my time now?"

2. Single mindedly concentrating on one thing at a time.

If you feel like you are jumping from crises to crises, then it is unlikely that you are concentrating on one thing at a time.

We have a natural tendency to major in the minors, doing those things that are easiest, or urgent; yet avoiding important things that represent the most valuable use of your time.

Start with your top value tasks. Focusing on your highest value tasks is a good step to take in getting the most out of your time. This will help you to reduce your stress levels.
Action exercises you can start today
Make a decision to become an expert on time management. Read books and visit websites.
Take this time management survey and receive a personal time management report showing you where you can improve your time management.
Make a list of the things you need to do today and prioritize them. Start with the top priority, concentrating single-mindedly until it is complete, then move onto the next task. This will be a big step to reducing your stress, but it may be difficult if you are controlled by the tyranny of the urgent.
Do a time management course. Our time management course incorporates the latest time management information and the new tools that accompany these changing times.
What works for you?
"We make a living by what we get, but we make a life by what we give." - Winston Churchill

Many subscribers have asked why we give all our resources and courses away for free, and ask for nothing in exchange, especially when these courses cost several hundred dollars each to attend.

Our goal is to improve the amount of quality time management content, tools and resources offered on our website.

And this is where you come in.

You can share with the rest of us – it's easy, just click here.

We want to hear your ideas what time management tips work and don't work for you.

Now comes the fun part! Once your page is written, submitted and approved for publication, we will create a webpage to highlight your story – and we will also highlight YOU as the generous time management expert who submitted it.

We will announce your story to the rest of the Time Management community and invite our readers to comment on your page.

Which time management tip has worked (or not worked) for you? Click here to share your time management tip.


To all of our subscribers, please let us know your comments, views or feedback so that we can improve our site for our most valuable resource - YOU

---

To access our free tools that are on this site, go to the time management tools page.

---

If you have a burning time management question that you want to ask, or you want to pay it forward for what works for you (or even answer a question), then see the time management question page.

---

Kell and the team at Effective Time Management Strategies wish you all the best.