Balancing Work and Family Template

Balancing work and family commitments can sometimes feel like a juggling act. With many balls in the air at one time, work life balance requires focus and prioritization.
Many of the people that I talk to who tell me that their lives are out of whack and they want to achieve work life balance, have one thing in common. They feel a sense of losing control! They feel over-run by all the things they have to do and that this crowds out the important things that give them enjoyment and more time with their family.
Here I get you consider your different responsibilities at work and outside of work and what you need to do to get back control.

Download your balancing work and life template (PDF)

Front wheel of the bike of life: Your time at work
Each spoke of your front wheel is a responsibility or project that you have at work. Each spoke could consist of:
marketing and/or strategy,
finance,
and important project, or

administration.

Take some time to think of the different responsibilities in your work life as it is important to get a clear perspective of your overall job function. For each person, the responsibilities will be different across different jobs.
When you have a clear idea on your job function and the different roles and responsibilities then write it down in the top half of your template.
Calculate how much time you spend on each area of your overall job. For example, how much time do you spend on strategy, what about marketing, or administration.
Write these hours down in the NOW column and give it a score in terms of how happy (0 - not happy, 10 - very happy) you are to spend this time doing this responsibility.
Calculating Time on Different Projects
If you want to objectively track how much time you spend on activities then fill out this time management log for a few days. If this sounds tedious then consider downloading this free time tracking software
At this point, think of the effective time you spend at work across your different responsibilities. Many people spend a long time at work yet don't seem to accomplish their high impact activities. This can lead to job burnout and less time with your family.
Now in the Future column write down the hours you would like in your different areas.
By starting to monitor how much time you spend in the different areas of your work your goal to achieve in that area you bring a powerful level of consciousness directed to this area. Consider the different ways that you can achieve this goal.
This worksheet allows you to take more control over the work side of your work life balance.
Just as it is important to work on the front wheel of the bike it is also important to work on the back wheel of the bike, the personal side of our life. We need to understand the different areas of our personal life.
Rear wheel of the bike of life: Your personal life
If you imagine the spokes of the back wheel, in which each spoke is a responsibility in your personal life, the different responsibilities may include:
family
health and fitness
education and growth
recreation and social life.
Balancing work and family starts with taking the time to identify the different areas of your life. In the work life balance worksheet calculate how many hours you currently spend and your happiness ratings, and what you would like in the future. 
This gives you a sense of where you are in your work and personal life.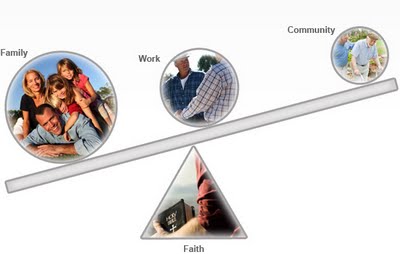 Once you have an idea of what you want to do more of and what you want to do less of, the next thing to do is to develop an action plan that moves you in the direction of balancing work and family commitments.

Developing an action plan for balancing work and family
Having an action plan that clearly defines the steps that you need to take in balancing work and family life and gives you a greater sense of control.
Developing action plans for work
Action plans for work is about ensuring that you identify your high impact activities and then focus your effort on these. These career goal setting guidelines will get you to:
identify your long-term career goals
break these long-term career goals into short-term career goals
funnel these short-term goals into weekly action plans for work.

By developing an action plan and then working to it, you instil one of the core habits of success.

Developing action plans for home
Are you wanting to spend more quality time at home? What does quality time look like for you? Rather than zoning out for too long in front of the TV you can spend quality time with your loved ones. These family goal setting tips will ensure that you:
construct long-term family goals that balance on the needs of each member of the family
construct shorter term goals which provide the foundation for good family time management that is focused on your high impact activities at home
this can be a good lesson to reinforce core principles of good time management for kids which can help your children use their time more effectively and get more out of life.
If you liked balancing work and family then you may also like these tips from the University of California.