The Time Management Matrix

The time management matrix is a litmus test for how time and the value of our output interconnect. 

Every minute of every day we are exercising choice as to how we spend our time.
Sometimes we look back on our day with great satisfaction; sometimes with the frustration that we have been busy all day and nothing has shifted.
The temptation to get sucked down into the vortex of little low value items can destroy
your plans, 
your achievement, 
your reputation, and 
your self-esteem.
Eisenhower can help – he developed a litmus test for how time and the value of our output interconnect.
The time management matrix below (popularized by Stephen Covey) differentiates between Urgency and Importance.

The Quadrants in the time management matrix
Urgency on the x axis is measured in terms of time setting from Now on the left to Long Term on the right. Importance or value is measured vertically on the Y axis.  All of our time use can be evaluated across this matrix. 
The quadrants below depict 4 scenarios:

Quadrant 1: Urgent and Important – where crises occur – no choice
Quadrant 2: Important and Not Urgent – where long term value is hatched and fostered
Quadrant 3: Urgent and Unimportant – where the niggly frustrating stuff happens
Quadrant 4: Neither Urgent or Important - where people are switched off or disengaged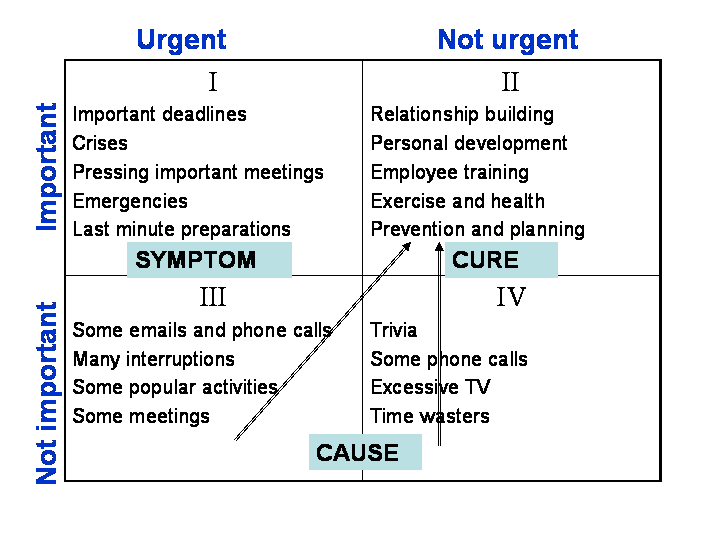 On a good day, most of our time will be spent in the top of the grid – on the important activity either short term or long term - preferably in Quadrant 2 since this is where sustainable performance lies and too much time in crisis in Quadrant 1 can lead to burnout and exhaustion.
Frustration builds when we have committed our time but we end up on the bottom of the table in the unimportant.
Why then does so much time in the average organisation get taken up in the lower levels – particularly Quadrant 3 - the Urgent and Unimportant?

Well…human nature!
Little niggly stuff is often easier than gearing up for the important stuff -  and who doesn't want an easy life? 
The biggest gains in your time management can be harnessed getting clear on your Q2 activities and from reducing your time quadrant 3!

How to use the time management matrix to increase time in Q2
Use the Eisenhower Time Management Matrix template to keep yourself honest and on track with your high priorities. Here are a few tips:
Map your own life activities in the 4 quadrants. Check in hourly, daily and weekly to monitor how you are really spending your time. 
Get clear about what are your quadrant 2 activities. If you are not sure then check out these ideas.
Protect your two or three most important activities in advance so that the vital few are not crowded out by the trivial many.
Use the time management matrix to reduce time in Q3
Don't let the trivial many crowd out the vital few!
It is frustrating to witter away your time on
ineffective meetings, 
the deluge of daily emails, and 
constant interruptions. 
All these crowd out important stuff that you are measured on.
If you feel that you are working hard but don't have much to show for it, then here are some tips to reduce your time in Q3:
Protect yourself from the temptations and frustrations of Quadrant 3 by keeping a task list and batching the small stuff in set sessions of your day.
Schedule set times with finite boundaries for email, managing your interactions with colleagues, making and taking calls.
Think of all the stuff that gets in the way of your concentration and question (1) Is this worth doing at all? And (2) Can I corral this activity into a set block of time which suits me and where I am not wasting my most valuable time of the day?
Have Do You Use the Time Management Matrix
Do you have a great story about this? Share it!
What Other Visitors Have Said
Click below to see contributions from other visitors to this page...