17 Time Management Tips to Get Things Done
These 17 time management tips sharpen your time management skills quickly so that you can get more done with less stress. 
Are you missing deadlines?

Do you usually run late to meetings and other appointments?
Do you feel you could use your time better? 
If you answer "yes" to any of these questions then may be able to manage your time better.
Here are 17 tips to be a better time manager.
1. Create a HIT list
"Every minute you plan saves you 10 minutes in execution."
- Brian Tracey
But what is the right time-frame for short term planning?
If you are not planning your work then start off with a master to do list. Put everything on there that you have to do.
Don't worry, you can expect to be overwhelmed here. Now lets leverage off the concept of the master to do list and create a HIT list. This HIT list is the must do activities that you need to do today. These are likely:
tasks that you simply must do
tasks that have a high long term value.
Each day move 3-4 tasks onto your HIT list and make it your job to bring your attention back to these tasks each day.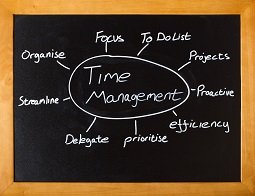 2. Eliminate your time wasters
What takes up your time but adds little value? Facebook? Constant checking of email? Instant messenger?
One thing you can do is to make it difficult for you to access these sites when you want to focus on something more important. I like this tool that blocks my access to my time waster sites when I really need to focus.
3. Leverage your time
How much is your hourly rate? Now divide this by 60 and work out your minute-by-minute rate. Ask yourself, how can I bring more value to that minute.
To get the highest return for your investment of time you need to consider leveraging your time with these time management tools.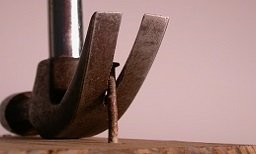 4. Refine your 'one' time management system
One system is better than two!
If you have actions sitting in your head, on post-it notes, and in your email, then you are using multiple systems which makes it more difficult to focus on what you really must do.
While one system is important it is equally important to consider and refine the number collection points in your system. 
5. Plan for the unplannable
Looking for odd sounding time management tips...then go no further!
Planning the unplanned...what does that mean?
Well, your day is going to get chewed up by unplanned events. For example:
your boss comes to you and says "I don't care what you are doing but you need to do this now!", or 
there is a client complaint that you just have to deal with now. 
Try to plan these into your schedule by giving yourself breathing space. Leaving a buffer between your scheduled activities of at least 15 minutes is a time management tip that will help you to maintain the rigor of the calendar.
You have more flexibility to adjust and move things around as current priorities come up. I talk more about optimal ways to set up your schedule that take into account your operating rhythm.
6. Use one organizer/planner
This is one of those time management tips that are assumed. We all know to choose one organizer or planner, electronic or paper. What is not often done is then chain it to you and committing to put all of your actions into it.
Your organizer is a tool that enables you to plan your work and then work your plan.
7. Use a calendar
When I work with clients I often see that they only thing in their calendar are meetings with clients.
Peter Drucker once said 
"If you can't measure it, you can't manage it."
A good time management tip is that if you want to get better at using your time a good start is to use your calendar as a tool to measure the time you are spending on different projects and areas of your life.
8. Put a time limit on your tasks
Parkinson's law is the adage that "work expands so as to fill the time available for its completion".
One of the easiest ways to beat procrastination is to make a commitment that you need to finish task X by 11am, task Y by 3pm, and task Z by 5pm.
The Pomodoro technique is a simple and effective time management tip to increase focus and get though your tasks.
Time management tips to reduce your time on unimportant stuff
9. The art of saying No
The art of saying 'No' first involves knowing what you are saying 'Yes' to.
Are you saying 'Yes' to more time at home? Are you saying 'Yes' to your high impact activities at work.
If so, then you know the opportunity cost of accepting more of the stuff you want to say No to.
Here I talk about some of the ways to protect your time by saying No.
10. Know where your time goes
Have you ever got to the end of the day and felt like 'gosh...where did the day go!'
Phone calls, meetings, interruptions...when am I going to find the time that I was employed for?
Knowing where your time goes is the first step of getting better at managing your time. You can keep a time management log, but personally, this is tedious.  It is much easier to set up a free time tracking tool that runs in the background on my computer.
11. Triage your email
When I visit workplaces I see just how much time people are spending on their email. Email is the default screen on most desktops.
If you are managing your workflow through email then it is very difficult to prioritize what you must do.
The ability to triage your Inbox is one of the key steps to taking control or your email before it takes control of you. Here I talk more about email etiquette that you can bring to your team or your workplace.

12. Learn to speed read
The game of knowledge workers is to value to existing knowledge. However, there has never been another time when we have had to digest so much information.
In fact, the amount of information that we receive on a daily basis is the equivalent of what our great grandparents received in their lifetime!
If you feel overwhelmed by what you have to read and are tired of gleaning over documents that you know you should read more thoroughly then these speed reading techniques. These techniques
increase your reading speed, and
increase your overall understanding.
13. Filter your information
Do you scan blogs for information or newspapers for current news on particular topics? Why not put automatic filters on the information that comes at you.
Consider using
Google Alerts on particular topics, or 
Feedly for specific websites, or 
filters on the email that comes each day so that the unimportant emails get trafficked out of your Inbox before you see it.
14. Prioritize
Do have too much to do and not enough time?
If so, then you are not alone! 
This is where the art of prioritizing comes in. Once you have set goals and know what you are aiming for then use the 80/20 rule as your key prioritization principle.
15. Batch like with like
For tasks that are similar then batch them together.
For example, consider
batch your emails (a couple of times a day), or
batch your phone calls. 
Look for repetitive tasks that you can gain synergy on by doing all at once (e.g. paying invoices or bills) and then assign a time in your calendar so that you can batch these tasks.
If the tasks are mundane or unimportant then consider doing the batching of these tasks after lunch or at a low period of the day. 
16. Practice delegating
'Delegating' is one of the most talked about yet underutilized skills in time management. Look at what you have on your plate.
Your prime opportunities to delegate are those tasks that
are of lesser value than the other tasks you need to do, or
can be used as a great training opportunity.
17. Refine your personal system
Applying these time management tips can sometimes feel like you are fitting a round peg into a square hole.
So trial your system and find one that works for you and your environment. At it's most basic your system needs to capture your tasks, be able to schedule how long they are, and prioritize them.
Here are some essential skills to better time management.
Do you have great time management tips. If so then please let me know below.
Do You Have a Great Time Management Tip?
Do you have a great time management tip? Please share it!
What Other Visitors Have Said
Click below to see contributions from other visitors to this page...